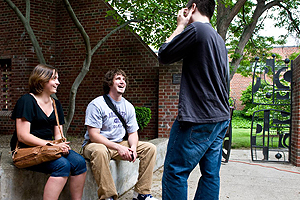 Ready for an up-close look at Nazareth? Meet program faculty and our Admissions staff, tour the campus, and learn why Nazareth is a great investment.
Request Info
Receive additional information by mail, including:
An application
The Nazareth graduate catalog on CD-ROM
Program information sheets
Details on tuition, fees, and financial assistance
An Information Session flyer
Sign up to receive an information packet
Information Session
Join us for an upcoming Graduate Program Information Session to learn firsthand about our programs.
Details:
Information Sessions include meetings with faculty from your specific program of interest.
Optional campus tours will begin at 5:15 p.m. before each Information Session at 6 pm.
For a campus map/directions to campus: http://maps.naz.edu/
Register for an Information Session
Campus Visit
If you cannot attend a graduate information session, we invite you to make an appointment to sit down with a graduate admissions counselor who will provide you with a general overview of graduate studies at Nazareth College, the application process, and a tour of our beautiful campus.
Campus visits are available Mondays through Friday, 8:30am-4:30pm. (When scheduling a visit, at least 48 hours advanced notice is requested).
To register for a campus visit, please call the Admissions office directly, at (585) 389-2050 or email gradadmissions@naz.edu.